Eligibility
One of the benefits of being an employee of a rural Missouri electric cooperative is having the option of becoming a member of MECE Credit Union. These benefits also apply to your immediate family as well. Below is a listing of who is eligible to join MECE Credit Union. Share these benefits that could last a lifetime with someone in your family. They will thank you for it.
Membership shall be limited to: employees of Missouri electric cooperatives; employees of societies, associations, organizations, corporations and other employee groups owned, controlled or operated by and for the benefit of the Association of Missouri Electric Cooperatives, its employees and the employees of the Missouri electric cooperatives; employees of this Credit Union; immediate family members of the above named active, retired or deceased employees who are members of this Credit Union.  Immediate family shall cease to be qualified to join this Credit Union upon the employee's termination with the cooperative affiliation.  Memberships, which have been approved prior to termination, shall continue until terminated under the provisions of these bylaws.
The Board of Directors defines immediate family for this Credit Union as: spouse, grandparents, parents, children, grandchildren, siblings and spouses of the aforementioned children, grandchildren and siblings.  Additionally: the spouse's immediate family as defined above is also eligible for membership at this Credit Union.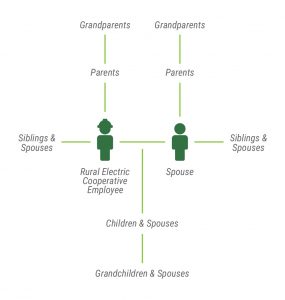 How to Join
To become a member of MECE Credit Union, click on the link below for an account application. Complete the application, sign it, and return it to the Credit Union along with a minimum deposit of $25.00 that will be deposited into a savings account and will begin to earn dividends immediately.
Click Here for an Account Application
Important Information About Procedures For Opening A New Account
To help the government fight the funding of terrorism and money laundering activities, Federal law requires all financial institutions to obtain, verify, and record information that identifies each person who opens an account.
What this means for you:  When you open an account, we will ask for your name, address, date of birth, and other information that will allow us to identify you.  We may also ask to see your driver's license or other identifying documents.